Discussion Starter
·
#1
·
Changing the rear speakers is really easy also just like the front speakers.
Pop open your trunk Fold down your seats and you will need to remove 4 plastic retainers holding the black underdeck cover on. (3 in the back, 1 in the front of it(middle) Mine had 2 additional holes, but no retainers. I don't know if that is the case in all 200's or not. After these 4 retainers are out you can pull the underdeck cover out.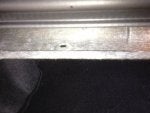 Top deck cover is held in by 2 plastic retainers. Remove these and you will be able to pull the deck cover out. there is a part of the deck cover that is behind some plastic on the right and left side of the car. Pull out of here first. and voila...there's your speakers.